I

really must

update this thing more often, lots have happened since my last update, not that I haven't been doing anything

(we don't have a ceiling at the moment in the hall - more networking cabling!!)

,

Anyways...




The MSKF Karate Championships on the 6th of November, from my point of view, were a massive success! Absolute respect to the organisers (Paul Smith, Ian Saunders and team!) for organising a great day! Hopefully all the sleepless nights payed off!

The actual events started at 10.00am with Kata followed by Team Kata. A break for lunch then Kumite for the afternoon session. (Quite a final that was too!). Finally all finished for 3.30pm. As I said, a great day watching some good sport - Well I'm booking my tickets early to watch next year!

I must also say, to all that compete, WELL DONE! its one thing to practice at your local club with people you get to know, but to get up in front of a sports hall full of spectators, judges etc, takes a lot of bottle!


There's a few

(OK 200 by the time I'd finished!)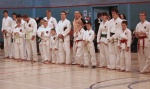 photos from the day here. Oh and I must really try and learn how my camera works,

all

of the pictures had an orange tint! Something to do with the lights in the hall apparently. After a bit of 'photo editing' I managed to get them to look 'OK'.

If you want any of the originals for prints or download, send me an email with the picture number on it and I'll edit and send you a full size copy. (I've tried them down at our local Asda's photo shop and they actually turn out quite well!)



Other News...


Back in October we (Stephanie, Wayne Jnr and Myself!) also took another nerve racking grading (Kids always handle this better than adults!) and I'm pleased to say - WE PASSED GREEN BELTS!

phew




Its getting close to Christmas again... so that only means one thing!!! -

planetWayne Radio

- should be back on the air 1st of December!!! Tune in and get in the mood for Christmas!